Spelpaus investigation: How marketers are exploiting a tool which is meant to help problem gamblers
A nationwide self-exclusion system ("Spelpaus") for all licensed gambling operators was introduced in Sweden in 2019. Players are required to register with their BankID number, and are then blocked from accessing iGaming sites for the agreed period, while operators are also required to remove their details from all marketing...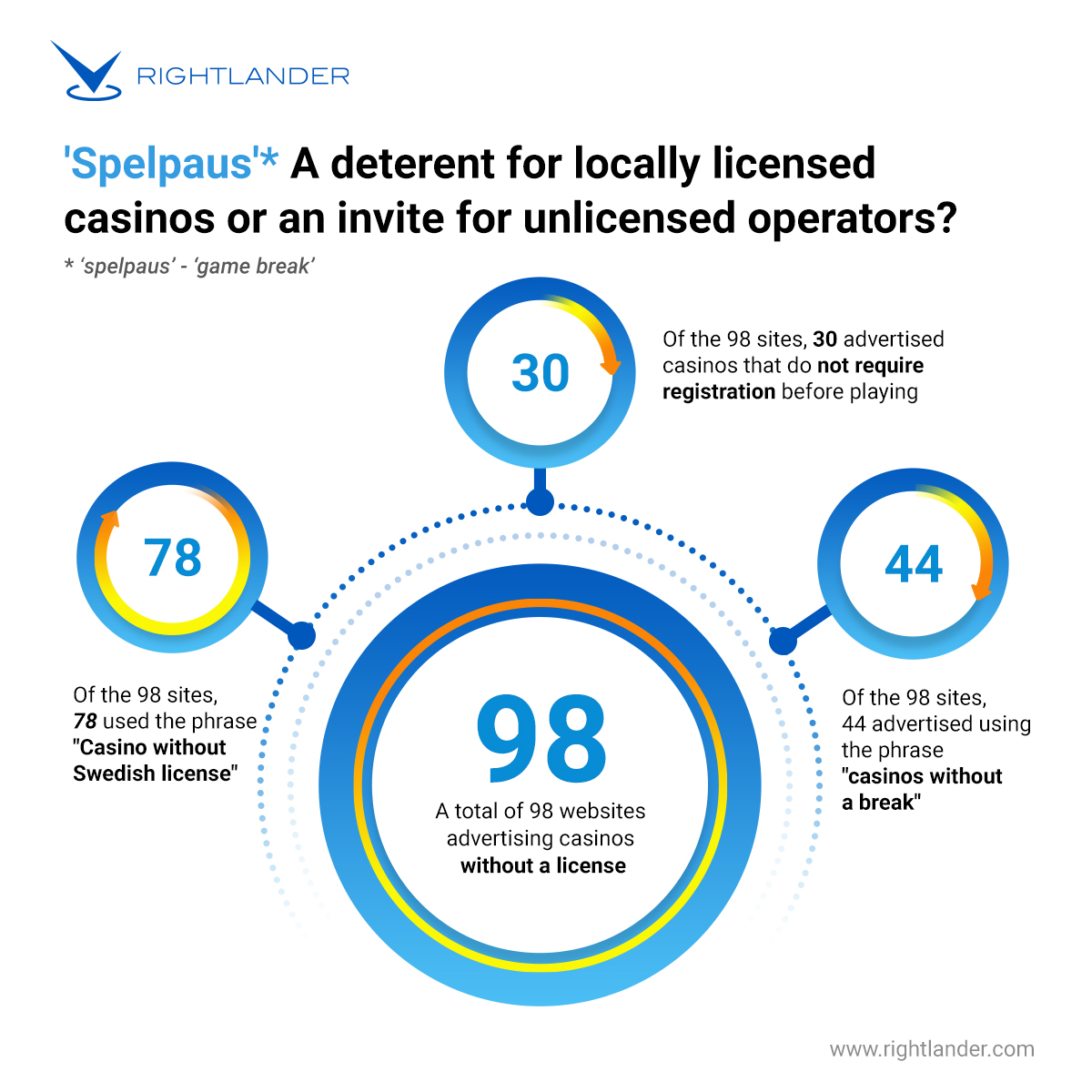 The Challenge
Online gambling presents particular challenges to gamblers who want to self-exclude from a problematic gambling behaviour; the sheer volume of gambling operators available online are numerous, and the self-exclusion from one website may easily be followed by the registration and gambling on another site in order to enable continued gambling.
The Research & findings
In January 2021, Rightlander undertook an investigation into the marketing of online gambling within Sweden by identifying websites that were using 'Spelpaus' as a marketing tactic to attract problem gamblers.
The research revealed an alarming rate of online unlicensed operators being advertised using exploitive marketing techniques to lure in online gamblers. A total of 98 websites were found to be advertising numerous unlicensed casinos.
Of the 98 websites identified, 78 used terms such "Casinos utan Spelpaus (Casinos not on Spelpaus)" luring in vulnerable gamblers and providing them with direct access to online gambling operators where self-exclusion was not an option. Even more alarming, 30 of these websites were found to be advertising casinos that do not require registration before being able to gamble.
Although around 50,000 Swedish residents have registered with "Spelpaus" which can be seen as a helpful tool to tackle problem gambling, the issue of exploiting vulnerable gamblers still remains. 
Ian Sims, Founder of Rightlander commented: "The findings from this investigation highlight just how easy it is to find an unlicensed online casino in Sweden even if you are a registered self-excluded problem gambler.
With limited control over these website and unlicensed operators, vulnerable gamblers fall under serious risk of gambling related harm."
Rightlander's affiliate monitoring service detects non-compliant content putting your brands at risk. We continuously monitor websites found to be targeting online gamblers with marketing messages that involve the use of keywords such as "Casinos utan spelapus" (casinos not on spelpaus) & "Casino utan Svensk license" (casinos without a Swedish license). To find out how we can help monitor your affiliate content, get in touch