Our company founder, Ian Sims, was asked to chair a Roundtable session at the Power50 Affiliates Virtual Summit 2020. An event which was exclusively held online on the 7th July 2020, something that is becoming ever more common in the current coronavirus pandemic being felt around the world.
The virtual summit was opened by a panel of leading affiliate executives, which included; Guy Harding, head of commercial at Oddschecker, Jesper Søgaard, CEO, Better Collective, Harry von Behr, Strategy and business development director, Spotlight Sports Group and Tom Galanis, Managing Director of Tag Media. They discussed the many challenges that igaming affiliates are facing at present such as; the global coronavirus pandemic, the growing compliance challenges and the influence the Responsible Affiliates in Gambling (RAiG) organisation may have on the future of igaming affiliate marketing.
More speakers talked throughout the afternoon on various subjects, which included increased advertising regulation, social media influencers and opportunities in the US gambling market. Breaking up these speaker sessions were the Roundtables - where smaller groups could go into a bit more detail on specialist subjects.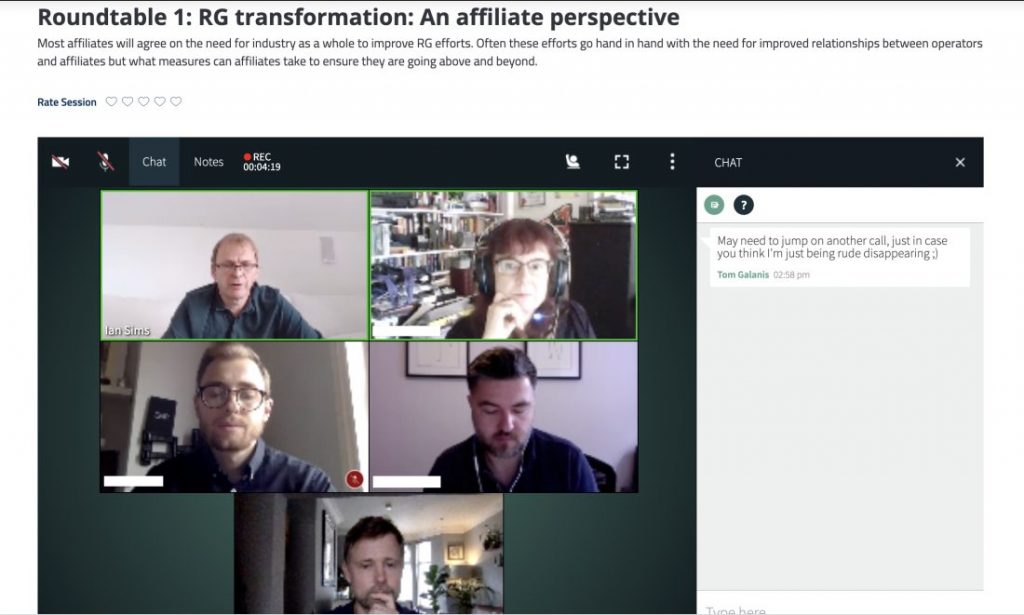 Ian took on the Responsible Gambling Roundtable and chaired a lively debate on the merits and potential pitfalls of the recent recommendations made by the All Party Parliamentary Group's investigation into Gambling Related Harm (APPG GRH). This is something that we have recently written about, so it was a subject Ian knew all too well. There were also other useful discussions on how affiliates and operators could learn to work better and avoid breakdowns in relationships and finger pointing when things were not going so well.
The finale to Power50 Affiliates Virtual Summit was a networking drinks session. Attendees could kick back and relax, maybe open a beer... or in some cases enjoy a nice cup of tea and talk to other attendees about everything and anything. There was quite a lot of discussion about life in lockdown, a cause of the coronavirus pandemic. Attendees also relayed how they had been coping and how things had changed in their businesses to adapt to the difficult situation. Once the conversations started to dry up the summit was wrapped up for the day. Many attendees will be looking forward to the face to face version of Power50 Affiliates, which takes place in Marbella, Spain in September.