A recent study into Australian online gambling bonus promotions by Rightlander has uncovered a significant number of affiliate sites that appear to target Australian gamblers.
Online gambling regulation in Australia prevents operators from offering bonuses and inducements for almost all products. There are a few exceptions, but products like sports betting, casino games, and pokies (slot machines) are strictly regulated and bonuses and inducements are not allowed.
Websites targeting terms around bonuses
59 websites featuring online gambling bonus text and information targeted at Australians
55 of 59 websites had references to 'Australia' in the URL of the page ranking for bonus terms
12 of 59 websites had reference to 'pokies' in the URL of the page ranking for bonus terms
13 of 59 websites had blocked access to the page from IP addresses within Australia
4 news websites and 1 android review site had content about bonuses for Australians
9 online casinos without an Australian license were blocked by the ACMA in November
Research carried out by Rightlander's found at least 59 websites that have content deliberately targeted at Australian gamblers, with bonus offers from casinos not licensed in Australia. In some cases, there can be up to 50 online casinos to choose from.
55 of the 59 websites had some reference to "Australia", "Aus", "Aussie", or "AU" in the URL of the page containing bonus information targeted at Australian gamblers. The term "pokies", which is commonly used in Australia to describe slot machines, was also found on 12 of the URLs of the same web pages.
13 of the 59 websites had blocked access to these specific pages from an Australian IP address, but interestingly the pages still contained keywords such as 'Best Casino Bonus Australia' and 'No Deposit Casino Bonus Australia'. This content was accessible on all 59 websites from IP addresses outside of Australian shores.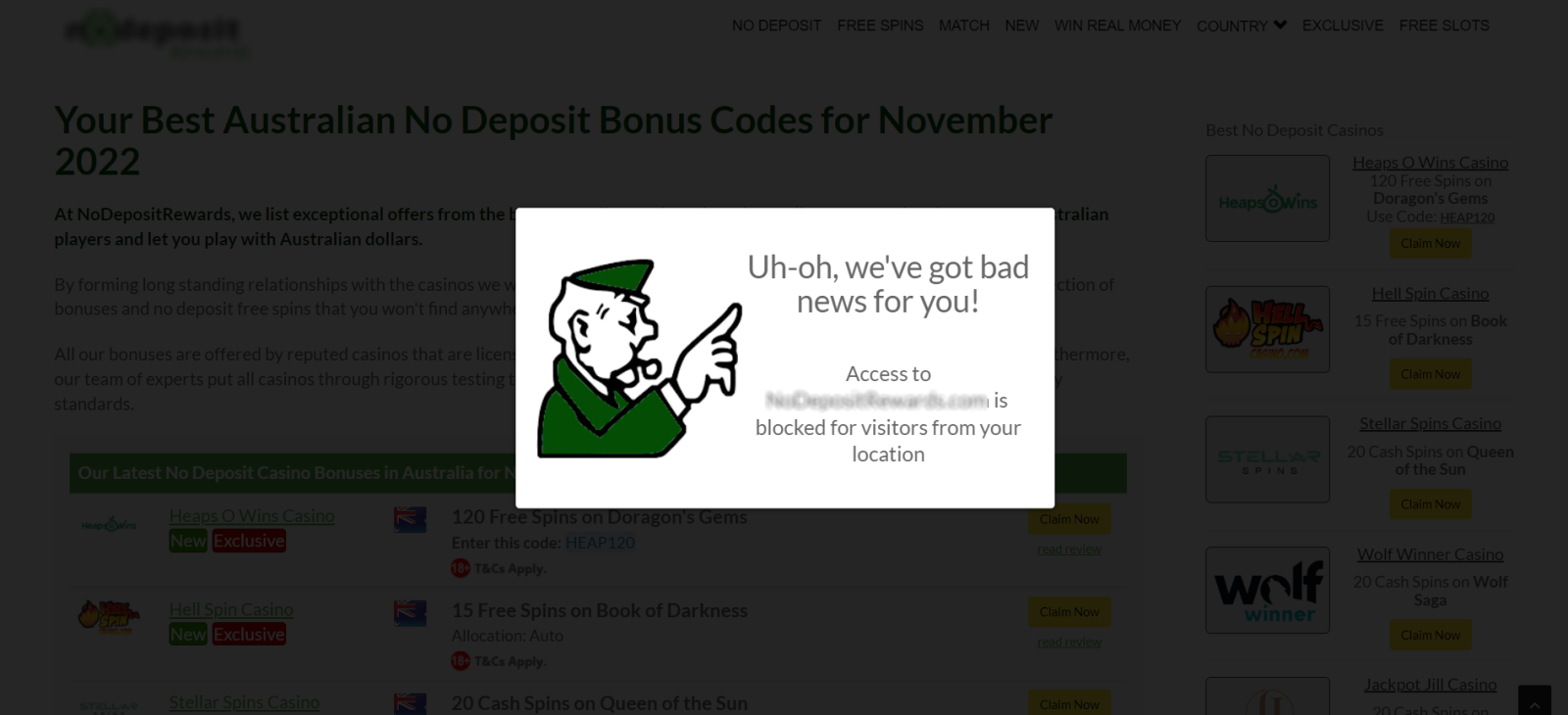 It's not just affiliate websites
One of the starker findings from the study was that 4 news websites and 1 Android-focused website had similar content about Australian casino bonuses, with active affiliate links to unlicensed casinos. Rightlander can only assume that these are paid editorials that affiliates have placed. This may be because news websites generally have good authority in search engines like Google, Bing, and DuckDuckGo.
Rightlander's study into the marketing of online gambling bonuses and inducements in Australia highlights the difficulties regulators face when implementing legislation. We saw this clearly when our research focused on marketing activity around the Australian self-exclusion tool Betstop.
Challenges for the regulators
Our understanding is that gambling regulators in Australia do not want any of this content available to Australian citizens, but how can it be controlled? Australian gambling regulators are typically responsible for the activity that goes on in their respective States, so trying to do something about these practices that exist across the internet is extremely challenging.
The Australian Communications and Media Authority (ACMA) is possibly best placed to try and tackle these marketing practices. As recently as yesterday, the ACMA announced on its website that it had blocked more offshore gambling sites. Only time will tell as to whether this practice will be an effective tool for controlling the activities of affiliates or if will it just become a game of whack-a-mole.
Speaking about the study's findings, Nicole Mitton from Rightlander said: "The marketing practices we see in Australia are sadly not surprising. Whenever legislation enforcement is put in place in a country or territory, black markets emerge to fulfil the demand in the legal markets."
"Australia's reluctance to allow legal, licensed operators to offer bonuses and inducements, while noble in its genesis, unfortunately also creates an opportunity for unlicensed operators and savvy marketers ."
"As we have seen in other countries, like the UK, Sweden, and the Netherlands, when more stringent online gambling regulation is introduced, it inadvertently creates a whole set of new challenges."
"Hopefully, Australian regulators have the power and means to control and reduce this issue, as players frequenting unregulated gambling sites causes significant problems in time," she added.