Spelpaus is the national gambling self-exclusion scheme in Sweden. The literal translation of the word 'spelpaus' is 'game break'. In this particular instance, the 'break' from gambling is permanent if you register with Spelpaus. Once a player signs up to spelpaus, they exclude themselves from all gambling sites that are participating in the scheme.
It was introduced to Sweden during sweeping online gambling regulatory changes that took place on 1st January 2019. Just like Gamstop in the UK and Betstop in Australia, the intentions of the service are to protect vulnerable gamblers. However, self-exclusion services are prone to exploitation by marketers who see opportunities to promote casinos and other gambling products to potential problem gamblers.
In January 2021, Rightlander conducted a study into the prevalence of affiliate marketers targeting keywords that contained the phrase 'utan spelpaus'. The most common term at the time was 'casino utan spelpaus' and our data suggested that there had been quite a lot of activity around that term.
Rightlander found 78 affiliate websites with content containing the term 'casino utan spelpaus'. The vast majority of those affiliate sites had direct links to casinos that were not registered with Spelpaus, and therefore would not have identified self-excluded players. Our study found 114 online casinos that were on the pages of content containing the keyword 'casino utan spelpaus', although we were unable to prove that they all were accepting self-excluded players.
What is the state of play now?
Jump forward two years and the picture is very different. The problem of targeting self-excluded players has not gone away, but there have been some significant change.
The number of affiliate sites actively promoting 'casino utan spelpaus' content had dropped by 67% to 26 in total.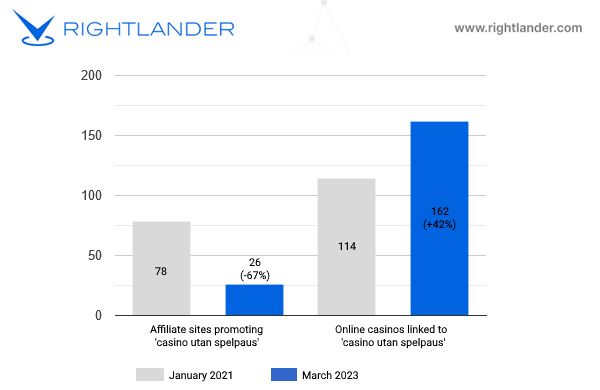 Also, affiliate sites with content containing 'casino utan spelpaus' typically don't link directly to casinos. We only found 2 websites that were linking directly to casinos. The other 24 affiliate websites were passing the traffic to a secondary website that contained no content related to 'casino utan spelpaus'. These are typically one-pagers with a long list of casinos that are not licensed in Sweden.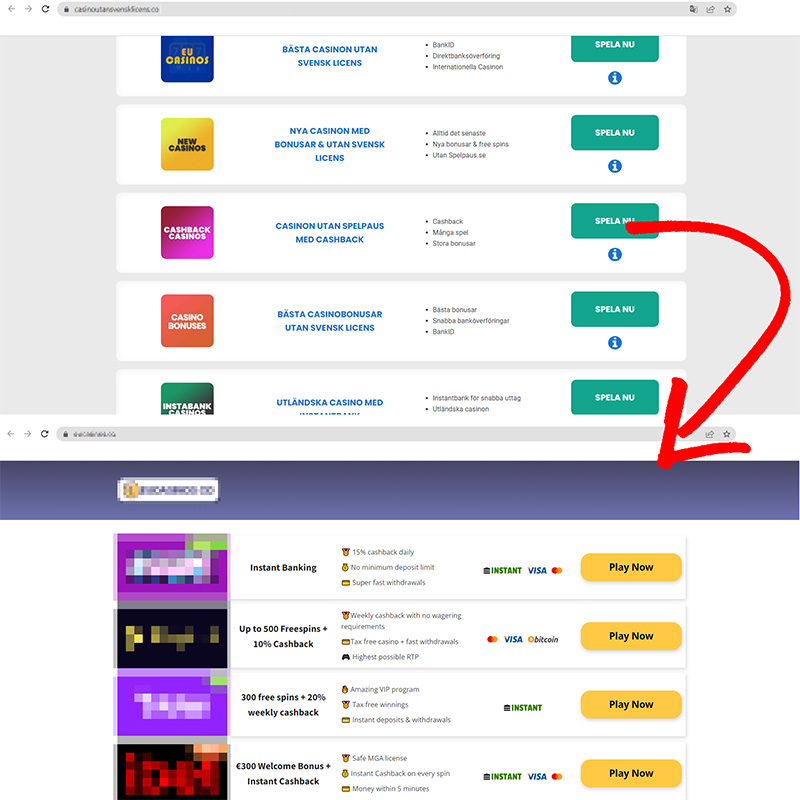 There has been a noticeable rise in online casinos that are connected in some way to 'casino utan spelpaus', with 162 detected on websites (the one-pagers mentioned above) that were being linked to from websites containing content with the keyword 'casino utan spelpaus'.
What has caused these changes?
The pushing of traffic to a secondary unconnected website is likely a cause of changes in legislation that prohibit the marketing of any gambling services to self-excluded players.
Legislation from the Swedish online gambling regulatory framework stipulates that;
"Advertisements for gambling services may not be directed at people under the age of 18 nor people who have registered with the self-exclusion registry."
The fact that almost all affiliate sites have adhered to this part of the legislation may indicate that many of these marketers are based in Sweden and do not wish to be pursued by the authorities, although this is purely speculation.
There are several reasons why online casinos targeted self-excluded players but market competitiveness and new entrants could have been the key motivators.
Where are the online casinos licensed?
The vast majority of casinos involved are licensed in Curaçao, with Malta-based operators second and sadly unlicensed casinos third. Some casino groups had multiple online casinos listed on websites that self-excluded players are being directed to.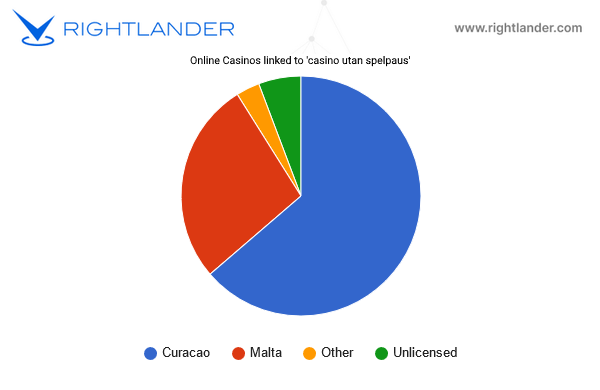 Curaçao has come under greater scrutiny in recent years for its alleged relaxed regulatory practices and lack of thorough checks on gambling license applicants. Studies like this one suggest that they still have some way to go to improve protecting vulnerable players from harm.
Other stats that stood out from 'utan spelpaus' study
There were a handful of other data points that stood out from our study, which we found interesting. They were:
6 news websites contained content with keyword 'casino utan spelpaus', 4 of which had affiliate links to casinos
Google news had 3 articles listed with content containing the keyword 'casino utan spelpaus'
17 websites were targeting the keyword 'betting sidor utan spelpaus'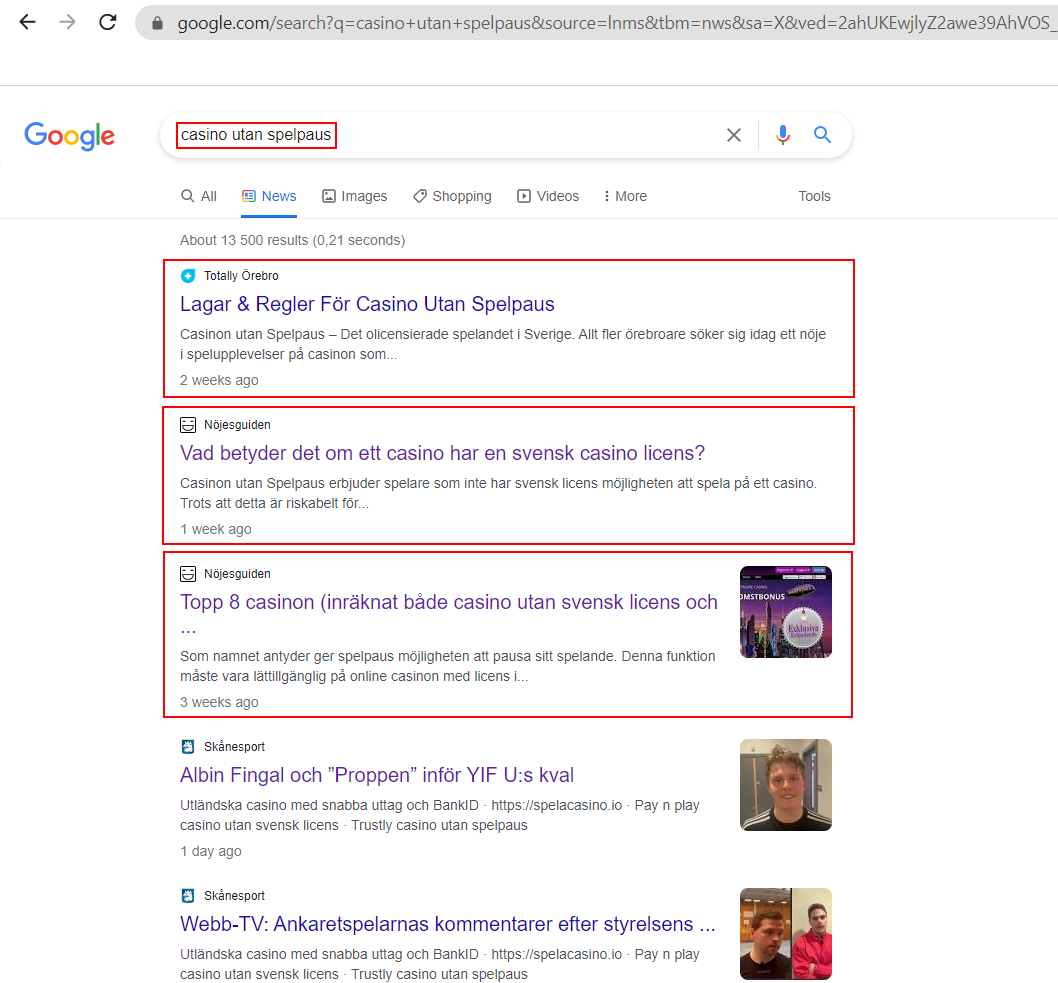 Summary
When comparing data that we collected this month with that of data from January 2021 we can see an improved situation around the keyword 'utan spelpaus'. There appears to be far fewer affiliate sites involved in this practice then there were 2 years ago. We assume there is also likely to be a drop-off rate when those people making these searches are directed to secondary websites that contain the casino lists.
That being said, this marketing practice of targeting self-excluded players has not gone away and there are certainly more casinos than ever willing to allow these players to register and play. This could be contributing to harm for players that may be prone to problem gambling.
A wider observation noticed in the study was the prevalence of the term 'casino utan svensk licens' on virtually every website visited in this study. We did not collect this data as part of this study, but we are aware that this appears to be a considerable chunk of the black market in Sweden.
Speaking about the findings from this study, Nicole Mitton, Head of Customer Success at Rightlander said: "It is reassuring to know that there appears to be a reduction in marketing activity in Sweden around 'utan spelpaus'. However, this predatory marketing practice is still going on, despite the best efforts of authorities."
"Vulnerable gamblers do need protecting and should not be directed to websites that may be willing to exploit their problems with gambling." She added.
Rightlander is a specialist provider of technology to detect if igaming brands are appearing on 'utan spelpaus' websites. This is just one of the many compliance services Rightlander provides to premium brands. For more details, please request a meeting with our team.