In December 2020, Rightlander published a study about the rapid growth of affiliate sites that were promoting 'not on gamstop' content.
For those not familiar with this phrase, it is commonly accompanied by other words, such as; 'casinos not on gamstop', 'betting sites not on gamstop', or 'poker sites not on gamstop'.
Gamstop is a self-exclusion tool in the UK, which, if activated by a player, will prevent them from playing at any gambling website that is registered with the service. UK-licensed gambling operators must provide access to Gamstop or they risk losing their operating license.
Keywords that include 'not on gamstop'
A reasonable assumption can be made that people making a search that includes 'not on gamstop' may have likely self-excluded at one or more gambling sites in the past and are now looking to get back into gambling online. The problem with this is that they are highly likely to have some issues around gambling.
It stands to reason that a person with an unhealthy relationship with gambling should not be spending their money at unlicensed gambling websites where there is likely to be low regard for their welfare. There are little to no safeguards for these players in an unlicensed environment and the potential for their gambling problems to get worse is generally much higher.
BGC Study
A recent study by the Betting and Gaming Council (BGC) determined that approximately 250,000 people had used unlicensed gambling websites during November and December 2022. For this quantity of people to be able to find unlicensed gambling products, there must be a fairly large black market in place and several marketing channels helping players get to these casinos.
Rightlander's research aims to shed some light on what marketing channels are being used and the potential size of the 'not on gamstop' market.
Comparison data
Our analysis of 'not on gamstop' keywords was conducted two years apart in December 2020 and again in December 2022. Part of the research was an attempt to understand whether 'not on gamstop' marketing had increased or decreased in that time.
Some simple metrics around volume suggest that 'not on gamstop' marketing has increased. The stats on this are below:
December 2020
Affiliate sites promoting 'not on gamstop': 46
Gambling operators on 'not on gamstop' sites: 84
Credit Card deposit offered to UK players: 8
December 2022
Affiliate sites 'not on gamstop': 69
Gambling operators on 'not on gamstop' sites: 111
Credit Card deposit offered to UK players: 2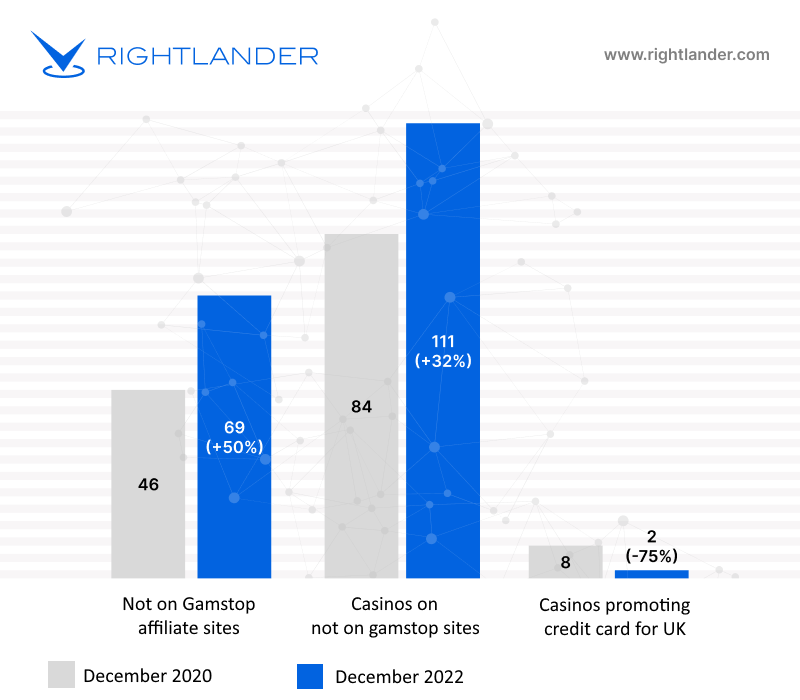 Despite a drop in gambling operators on 'not on gamstop' affiliate sites offering credit card payments to UK players, across the board the numbers are up. This suggests that this predatory marketing practice is growing. Further information gathered from our study has also helped to the lengths some of these marketers have gone to get their content in front of eyeballs.
New insights
The growth in 'not on gamstop' marketing activity has meant that previously unexplored areas of the internet are now being exploited for links, traffic, and other potential gains. In our previous study in 2020, we did not find any content related to 'not on gamstop' in Google News. However, a recent search for 'not on gamstop' revealed 7 or the first 9 results were news articles actively promoting 'not on gamstop' gambling operators or affiliate sites. A total of 36 news articles in Google News were found to be promoting 'not on gamstop' in some shape or form.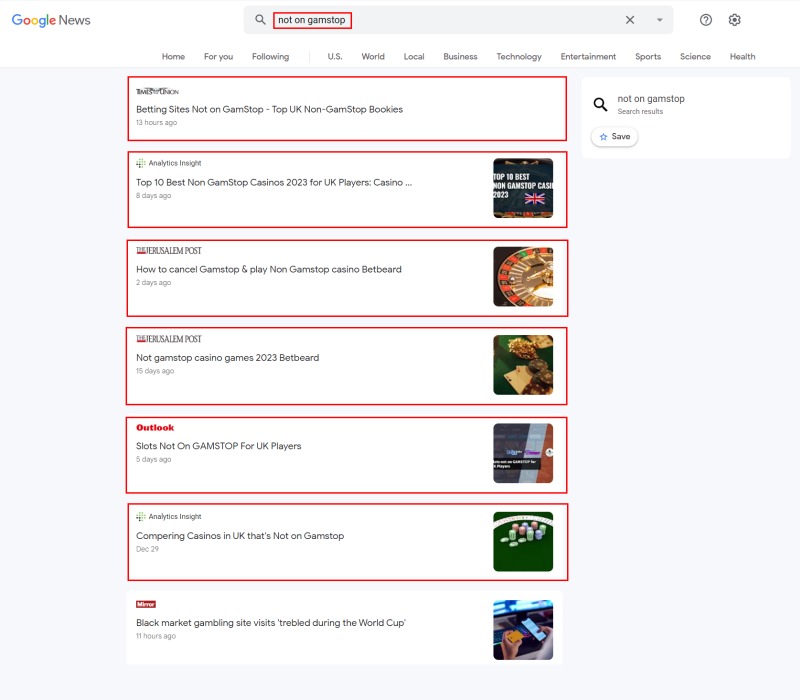 News sites appear to be the latest frontier for 'not on gamstop' content marketers. Paid-for editorials on news sites and other high-traffic sites are now commonplace for affiliates and marketers to either build links to their sites or promote casinos with affiliate links in the news article. Some very prominent sites have been accepting content that contains 'not on gamstop' phrases. A total of 82 news, review and hobbyist websites had some form of 'not on gamstop' marketing content
Social media channels appeared to be a little less affected, with only 6 groups found on Facebook containing the phrase 'not on gamstop'. The largest of these groups had 56 followers and the group appears to be fairly inactive. Instagram had less than 5 posts containing 'not on gamstop' and Twitter was equally very quiet when it came to this phrase.
Gambling Operators
There has been a growth in the number of casinos that are advertised on 'not on gamstop' affiliate websites. The figure of 111 total casinos promoting 'not on gamstop' is slightly misleading, as 57 of those casinos appear to be operated by just one casino group. The data suggests that there are only a small number of casino groups involved in this activity, possibly no more than 10.
The big change observed in our 2022 study was that many new products have been added to 'not on gamstop' casinos. In particular, 84 of the 111 'not on gamstop' casinos were offering sports and esports betting. 96 of the 111 casinos had live dealer casino games available. Also, a wide variety of payment options are available, with 87 of the 111 casinos offering crypto deposits and withdrawals.
Licensing is optional
One of the stats that stood out the most was the general lack of licensing on many of the online casinos found on 'not on gamstop' affiliate sites. Only 23 of the 111 casinos advertised a gambling license on their website. If they did have a license, it was generally provided by Curacao, Seychelles, and in one case, Bulgaria.
Although licensed UK casinos were not typically found on 'not on gamstop' affiliate sites, our study did find 7 casinos with a UK license listed with unlicensed casinos. Rightlander has contacted those casinos to warn them of the potential danger to their license by being listed on 'not on gamstop' affiliate sites.
Legitimacy through Counterfeit games
One of the outstanding differences in the more recent study was the sheer volume of counterfeit games. Typically, slots were the most commonly copied games, but other casino games were also being targeted.
Having the names of licensed casino game developers on these 'not on gamstop' casinos would possibly draw in players to popular games, but it will also give some legitimacy to the casino. If you don't have a license, contact phone number, or recognisable address then these well-known brands can give the casino some much-needed credibility.
Headline stats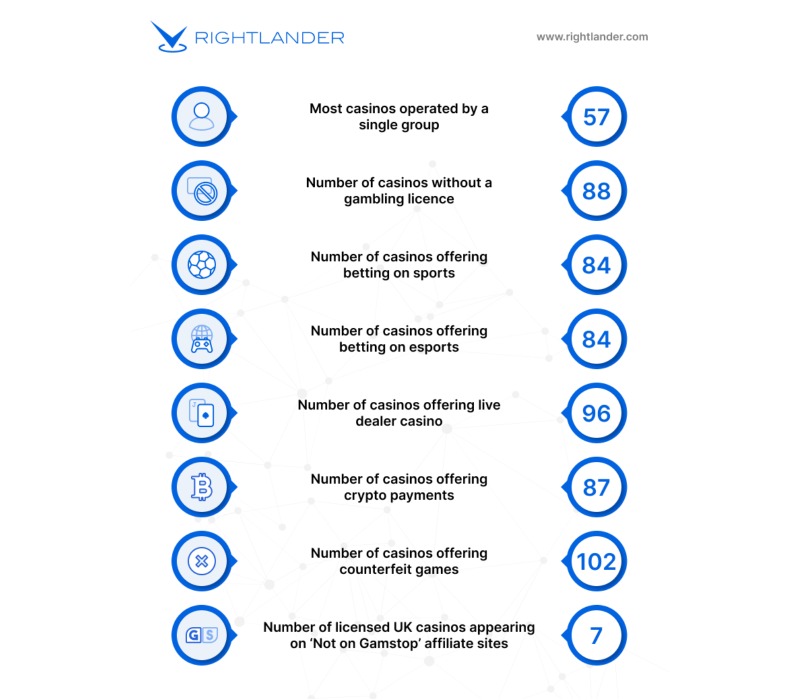 Number of casinos accepting UK players on 'not on gamstop' sites: 111
Most casinos operated by one group: 57
Number of casinos without a gambling license: 88
Number of casinos offering sports betting: 84
Number of casinos offering esports betting: 84
Number of casinos offering live dealer play: 96
Number of casinos offering crypto payments: 87
Number of casinos offering counterfeit games: 102
Summary
Overall, the 'not on gamstop' situation is pretty bleak and is potentially causing a great deal of harm. Tools like Gamstop are carefully designed to protect players who are vulnerable. However, there can be consequences if the player decides they want to return to online gambling and starts looking for ways round the Gamstop system.
Nicole Mitton, a spokesperson for Rightlander said: " The findings from our most recent study are concerning as the numbers suggest that the black market of unregulated online gambling is growing in the UK."
"Self-exclusion services like Gamstop are a fundamental part of protecting vulnerable people, however, the exploitative tactics used by 'not on gamstop' marketers are likely leading the same people towards harm," she added.
Rightlander provides monitoring tools to detect if igaming brands are appearing on 'not on gamstop' websites. This is just part of a range of services available at Rightlander that allow your brand(s) to stay compliant across the internet. For more details, please request a meeting with our team.